The investments in 3,000m2 workshop are Fuji CAC determination to ensure our company able to provide highest quality service standard to take on any critical task that our clients request.
Fuji CAC Workshop located at Cat Lai Industrial Park in an area of over 3,000m2, equipped with CNC Milling-machine, CNC punching, Multipurpose Latching, Bending, Cutting, Drilling, Welding machine, Busbar processing machine 3in1, Tester…
Workshop: 938A9, Street A, CatLai Industrial Zone, Thanh My Loi ward, Thu Duc city, HCMC, Vietnam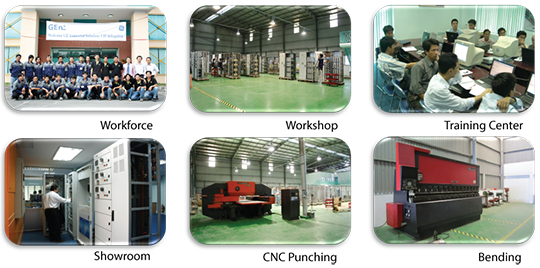 Our solid expertise and over 20 years of extensive experience in Electrical And Automation Systems guarantees the most reliable, high quality and cost effective solutions for our clients.


Main Purpose of workshop
To supply Low voltage Switchgear (MDB, MCC, DB) & Control cabinet for End Users/ Contractors & Fuji CAC project.
Benefit that workshop can offer to Clients
Supply on-demand Low voltage switchgear & Control cabinet.
Offer well-equipped facilities for FAT (Factory Acceptance Test) in-house.
To complete Fuji CAC product & service portfolio as "one stop shopping": Design – Fabricate – FAT – Supply – Installation – Commissioning – SAT (Site Acceptance Test) & Hand over. Cover all service and products from workshop.
Cover all service and products from workshop
LV switchgear/ MCC, Distribution panel, Control Panel, Gas Analyzer Panel.