ABOUT US

Fuji CAC, a member of Fuji Electric Group, is known as the leading Industrial Solution Provider in Electrical, Automation & Control market, and now acting as Main MEP Contractor (complete scope of Electrical, Control, HVAC, and Piping & Firefighting) in Vietnam and Southeast Asia Countries.
Founded in 1995, Fuji CAC has been keeping the stable development and becoming a trusted solutions and services provider for many well-known International & local companies in Food & Beverage, Chemical, Oil & Gas, Power, Cement, Infrastructure & Facility, Solar & Renewable Energy... such as CocaCola, Suntory Pepsico, Nestle, First Solar, Carlsberg, Bunge Soya, Unilever, P&G, ICI Dulux, Akzo Nobel, Synthomer, Bayer Chemical, Petro Vietnam, PTSC, VietsovPetro, Holcim, Chinfon, Luksvaxi, Ha tien I & II Cement,...
Fuji CAC also has experiences in implementing projects & services oversea in African and Asian countries.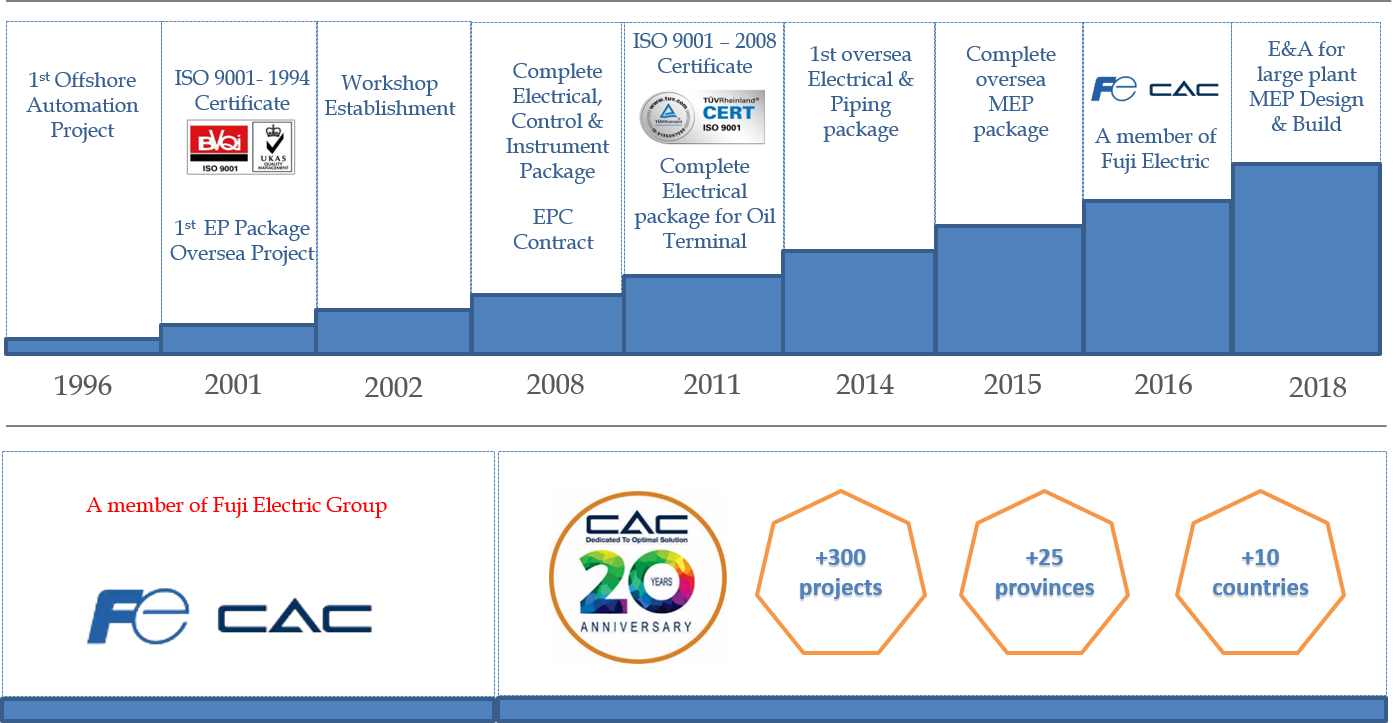 COMPANY HISTORY
Since the establishment in 1995, Fuji CAC has been writing our story of success. Starting as an electrical, automation and instrumentation service provider, Fuji CAC has grown to become one of the most reliable and respected engineering, procurement, construction and maintenance contractor for multiple business sectors in Vietnam and Southeast Asia countries.
- The first Vietnamese company to supply and engineer automation system for offshore oil-rig (VietsovPetro, 1995).
- The first Vietnamese company to successfully research, design and build NPK fertilizer production line and export to the African market (Ivory Coast, 2000).
- The first Vietnamese company successfully acted as EPC Contractor to build a complete Cement plant (NamSon, 2008).
- The first Vietnamese company was awarded the MEP package as the main contractor to build new plants of CocaCola in Vietnam, Myanmar, and Cambodia (2013, 2014 & 2015).
VISION
Achieve the goal of being the leading solution company in the industrial electrical market of South East Asia and acting as the Southeast Asia Engineering Center of Fuji Electric.
MISSION
Dedicated to provide optimal solutions that are able to meet customer's specifications & requirements with the following objectives: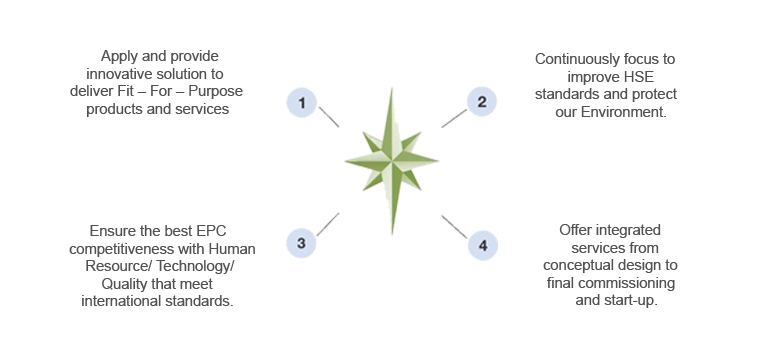 CORE VALUE
[C] Creative to
Develop innovative solution to build a green industrial world.
[A] Association to
Provide our clients professional solutions, products also services with stable quality as clients's demand.

Provide our clients the highest value added and value distribution to develop Vietnamese and Asian industries.

Build investment value for clients, partners and owners based on professionalism, integrity and equality.
[C] Commitment to
Become one of the leading companies of total industrial solution providing in Vietnam and Southeast Asia with high techniques, advanced technologies and professional after-sales services.

Provide services along with the entire life-cycle of our customer investment.

Together we have built Fuji CAC to become strong, leading, and trusted Solution Provider in Vietnam.