One-Stop Shop Service: To assist in the goal of becoming a total solution provider that carries out projects in a comprehensive manner, Fuji CAC has established the Project Planning, Engineering, Procurement, Construction, and Service Department. We also continue to secure essential capabilities for each process, including the development of independent workshop.
In addition, Fuji CAC will provide greater satisfaction and services to customers by further strengthening our score expertise and the latest technology.
The idea is to provide convenient and efficient services and also to create the opportunity for our customers. Our engagement covers a wide professional services.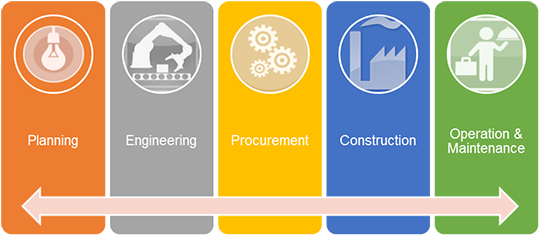 Fuji CAC deliver Fit - For - Purpose on Full Project Life-cycle, from Engineering, Design, Completion to Start Up and Maintenance, that optimizes the process performance while reducing operating & maintenance cost, allowing optimal timely delivery and thus creating an opportunity for Fuji CAC to maintain continuity and the highest level of customers satisfaction.
Our solid expertise and over 20 years of extensive experience in Electrical and Automation Systems guarantee the most reliable, high quality and cost - effective for our clients.

Electrical and Power System:
Substation: HV (High Voltage) and MV (Medium Voltage) Substation.
Power & Energy Management System (PMS & EMS).
Power Distribution System: From HV/MV to LV Distribution.
Power Equipment: MV/LV Switchgear, DB (Distribution Board), Busduct, Transformer.
Emergency Backup Power: Generator & UPS.
Automation and Control System:
DCS (Distributed Control System): PLC-SCADA system.
Energy Management System.
Safety System, Industrial IT Systems.
Process Instrument, Gas Analyzer, Industrial weighing System.
Process Control Valves.
Telecommunications & ELV (Extra Low Voltage) System:
Fire Alarm systems, Security/ Access Control.
Closed-Circuit Television (CCTV) & Master Antenna Television (MATV).
Telephone & data (cabling, PABX).
Public address (PA).
HVAC (Heating, Ventilation and Air Conditioning) System:

Variable Refrigerant Volume (VRV) systems.
Chilled Water Systems.
Fresh Air, ventilation and exhaust systems.
Cold room Unit.
Building Management System (BMS).
Process Piping System:
Complete detail design, equipment supply & welding and installation service for Piping system: Main Steam line, Main condensate line, Vaporized CO2, Low Pressure Compressed Air, Raw Water, RO Treated Water, Chilled Water, Pipe support...
Plumbing & Fire Fighting System:
Hydrant System Pump House.
Piping Distribution.
Sprinkler system.
Water drainage and plumbing system.